Host/Producer: David Ngo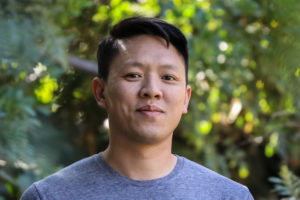 David is a current writer and filmmaker, sometime professor, past reality TV executive, always a pop culture enthusiast, and future podcast veteran.  He humbly thanks his friends and his guests for helping him create this podcast.  David's creative portfolio.
Original Theme Song Composed by Robert Trucios
Robert is the most interesting man in the world.  Music is only one of his numerous talents. Robert's website
Theme Song Lyrics by Jin Yoo-Kim, David Ngo, and Robert Trucios
Theme Song Performed by Mika Yamamura
Web Development and Web Design: Ben Ackerman
Ben is the internet. The world should rename "www" to "ba".  His knowledge of the digital world is vast and impressive. (Ben's Twitter @benackerman)
Operations:  Ben Ackerman
Per above, Ben is the internet.
Cover Art and Title Design by Lindy Shibata and Mika Yamamura 
Lindy and Mika wish to remain mysterious, but their talent is not.  I will mention it here.
Social Media: Jennifer Kim, Jin Yoo-Kim, David Ngo
Jennifer is the master of slang, social media marketing, and boba.  She's a multi-threat person. (Jennifer's Instagram @jenniferoliviakim)
Special Audio Advisor: Kim Patrick
Anything is Kim Possible.  She's awesome.